Lionhearted Stair Tread Grates
Flow-Through Stair Treads for Surefotted Traction and Strength

Lionhearted Stair Tread Grates - The vast majority of grating platform and walkway applications require stair treads to allow access to the various levels that are ipart of most project applications. The Mat King Lionhearted Grate Sysyems offer a full range of grating tread profiles to meet the application requirements of the most stringent and sofisticated users. Whether the project requires a standard maintenance access tread or a closer mesh and for a more pedestrian friendly or Americans with Disabilities Act complient product, The Mat King is able to supply a variety of appropriate, well built and affordable products.

The Mat King sales and engineering teams stand ready to help with the developement of product specifications regarding slip resistant surfaces such as serrated, In-the-Metal or Grit Enhanced Polyurea as well as selecting the appropriate nosing for the tread to meet the needs of the end-users.
Nosing Options - Text TBD.
Nosing Options
Checker Plate Nosing
Grit Plate Nosing
In-the-Metal Traction Nosing
Option Four Traction Nosing
Steel Stair Treas Details - TBD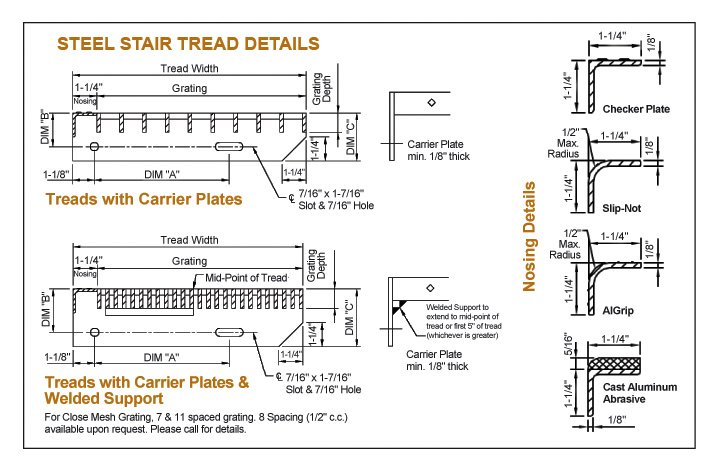 How to Request a Price Quotation - TBD.