The perfect anti-fatigue solution when chemical resistance and conductive properties are required. Ideal for electronics or explosives manufacturing.
• 3 year warranty
• Color: Black only
• Conductive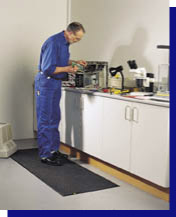 Primary usage areas:
All areas where static control and chemical resistance are important:
• Electronics manufacturing
• Explosives manufacturing
Cleaning:
• Withstands all types of cleaning including chemical, steam and high-pressure water cleaning
• Autoclavable at 250° ­ must be laid out flat when cooling


• Viking Mop ­ Designed to clean the Viking Mat primarily in cleanroom environments. May be used wet or dry.

Non-slip properties:
• Very good
• 31° tilt on wet surface
Weight:
• 1.5 pound per square foot.
Color:
• Black
Specialty applications:
• Cleanrooms:
Class 100 (Fed. Sys. No. 209D)
Note: Some vinyl soled booties may cause abrasion.
• Static control:
­ point to point resistance < 10 E 6 ohm.
• Non-porous.
Standard sizes (±3%):
• 2', 3' and 4' wide in length increments of 1' between 3' and 60'
Raw material:
• 100% virgin nitril rubber.
Custom sizes:
• Any size or shape can be supplied.


Thickness:
• 5/8"
Edge:
• Beveled on all sides unless otherwise specified.
Temperature range:
• Constant: -40°F to 250°F
• Briefly: 1100°F
Warranty:
• The Viking Easy-On Easy-Off Electrostatic Dissipative Nitrile Rubber Comfort Matting is guaranteed by thew manufacturer against defects in materials and workmanship for three years.
Manufacturing quality:
• According to ISO 9001
Chemical resistance:
• Very good
• Viking Easy-On Easy-Off Electrostatic Dissipative Nitrile Rubber Comfort Matting will not be affected by most commonly used acids and bases.
• We will provide samples for chemical resistance testing with specific chemicals used in your facility.

Please note that while the right mat can reduce the risk of slips and falls, no product can guarantee that accidents won't happen. Suitability to task in all aspects must be determined by the end-user, and Jandru Mats, Inc. d/b/a The Mat King accepts no responsibility for damages involving the use of its products.