The Mat King Western Bull's-Eye Mats & Matting / Tile Topped Comfort Mats

The Mat King Western Bull's-Eye Tile Topped Comfort Mats have superb cushioning and support for workers. 1/2" overall thickness. Durable, long-lasting surface. Marbleized surface is attractive in all settings. Beveled edges for safety.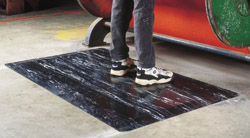 Sizes
Mat Sizes: 2' x 3' ; 3' x 5'
Custom Sizes: 2', 3' and 4' widths up to 60' in length
Thickness: 1/2"
Specifications
Product Weight: 2.0 lbs. / Square Foot
3/32" marbleized rubber surface bonded to a 3/8" closed cell sponge underlay. Positively not guaranteed against damage from high heels, casters or pointed stool legs.
Use: Wet or dry work areas.
Colors: Blue/White, Black/White, Gray/White and Tan/White