The Mat King Western Bull's-Eye Chuck Wagon Food Service Drain Mats II provides cushioning, support and safety in wet, dry and greasy work areas. 1/2" thick rubber. Reduces worker fatigue and help prevent accidents. Lighter weight for easier handling and cleaning. Beveled edges for safety and easy cart access.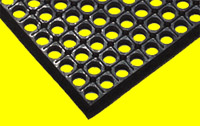 Sizes
Mat Size: 3' x 5'
Thickness: 1/2"
Specifications
Product Weight: 1.67 lb. / Square Foot
Use: Bars, service areas, kitchen & industrial areas.
Colors: Black ( general purpose)