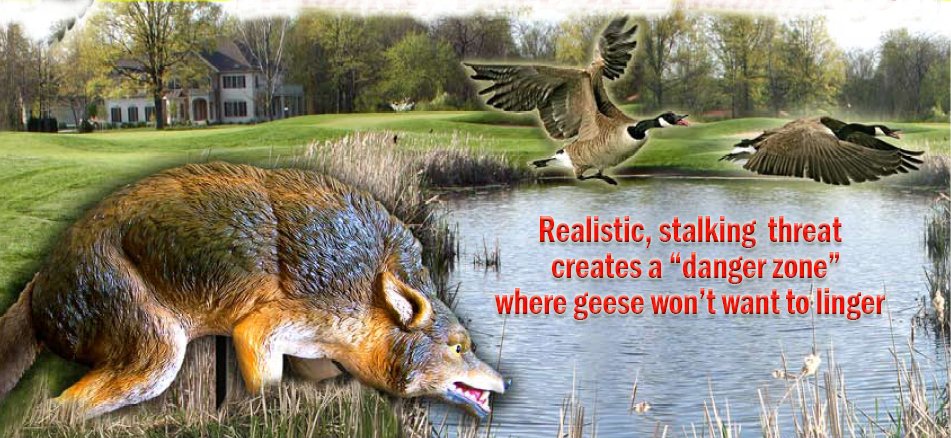 In a life-like, 3-D (three dimensional) stalking posture, the Coyote Stalker scares unwanted and destructive Canada Geese; also referred to as Canadian Geese. Geese and their droppings cause property devaluation and damage. The use of coyote replicas is a well-established method of deterring geese from frequenting areas in which they are deployed. The Coyote Stalker was developed based on over 40 years of research and experience with goose problems at golf courses, corporate, school and hospital campuses, parks and homes. It incorporates unique features to ensure long-term effectiveness with no required maintenance. The Coyote Stalker looks realistic. It is a life-sized 3-dimensional depiction of a Coyote in a stalking posture, which has proven to be menacing and frightening to Geese. It measures 37 inches from head to tail, 8 inches in width and 16 inches in height. Its furry tail and true-to-life markings add to its goose-terrorizing appearance and make its presence an imposing one. Unlike other goose deterrents, which are stationary, the Coyote Stalker moves and changes position in even the slightest breeze. It is visible from all angles giving full 360-degree coverage, which makes it much more superior to flat silhouette-type goose deterrents that must be viewed "full-on" if they are to be at all effective.
Coyote Stalker is manufactured from durable water-resistant and weather resistant EVA resin. It is portable, and easy to set up wherever goose infestation exists, yet it can be easily folded for storage when the season is over. Coyote Stalker is a safe and humane deterrent option that allows users to avoid dangerous chemicals or restricted lethal methods, which can and often do generate negative publicity for companies and organizations.
Coyote Stalker is available for immediate delivery and is supplied with mounting stake and instructions featuring an overview of the Canada goose problem and its seasonality, and other tips on goose management.
Other goose repelling products available from The Mat King include: food-grade taste aversion sprays, floating alligator-head replicas, and sound generators based on research done on goose behavior and vocal communications, and featuring the first naturally-recorded goose alert and alarm cries.