Clear Plastic Anti-Contamination Face Shields - for direct splash protection.
Description:
Optically clear & distortion free for maximum visibility
Light weight
Full Length for splash protection
Foam headrest relieves pressure for user comfort
Face Shield Material: 100% PET (polyethylene terephthalate)
Foam Material: PU (Polyurethane)
Strap Material: 100% polyester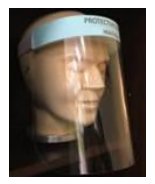 Product Number
Description
Price per Shield
9988-800-0001
Disposable One-Piece Clear Plastic Face Shield;, Foam, Strap; 11.4"x 12.6"x 9.45"; 0.11#/each; For Liquid or Dust; (rack#: 3956)

$8.67

Minimum order is Ten (10) Face Shields = $86.70 exclusive of shipping.
Prices are exclusive of shipping and applicable sales tax if any.
For custom Price Proposal of significantly greater quantities, please provide contact name, phone number, e-mail address, destination city, state and Zip Code and the number of shields requested. Thank you.