Prestige Heavy Duty Aluminum Roll-Up Entrance Grate is 3/4" Thick and offers the best of both worlds - the rugged benefits of a recessed entrance grate with the easy maintenance aspects of a roll-up mat. The Prestige Heavy Duty Aluminum Roll-Up Entrance Grate handles rolling loads of up to 1,000 lbs. per wheel, yet can be easily lifted and even rolled up for easy maintenance.
This hybrid mat and grate product features a thermoplastic combination hinge and footpad that is weather resistant and remains flexible down to -30° F. It will not crack, break or become brittle where PVC based materials would.
There are four types of Tread Inserts: Nylon Carpet Tread Inserts (#436), Diamond Peaked Vinyl Tread Inserts (#437), Polypropylene Brush Tread Inserts (#438), and Vinyl Abrasive Tread Inserts (#439). Each Tread Insert type is available in a nice selection of colors to complement any decor. An aluminum frame for recessed applications is also available.
The aluminum rails can be supplied in Mill finish, which is standard, or can be supplied in anodized Black, Dark Bronze, Standard Medium Bronze, Light Beige, Brass, Gold or Clear.
Please call (800)442-6544, or Fax desired layout, number of mats, and contact information with destination city, state and Zip Code for the shipping aspects, to (800)Mats-Fax (628-7329) for a custom price quotation.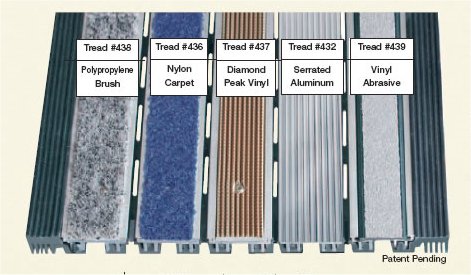 The 450 Recessed Frame is on the Left in the above Drawing
The 448 Recessed Frame is on the Right in the above Drawing