Seclusion Rooms - also known as "Time-Out Rooms" and are also known as "Quiet Rooms," are a necessary part of facilities where organizations interface with the public and where someplace safe and secure is needed when an individual requires temporary confinement to protect them from doing harm to others and to themselves. It is not a pleasant thing to have to consider, but if and when it becomes necessary, it is important that the right preparations have been made in order that such individuals will be well cared for and that they will not be able to harm themsleves.
The Mat King Seclusion Rooms are equipped with three basic elements that provide just the right environment for this very important facility: Safety Floor Padding, Safety Wall Padding, and a Unifying Top Cover for the Safety Floor Padding.
The floor of a Seclusion Room by The Mat King is covered completly with vinyl clad foam based folding mats that are equipped with Velcro connectors to keep the mats together in an uninterupted protection against inadvertant or intentional falling or thrashing about of a person in need of a safe place to stay. On the underside of the entire perimiter of the floor padding layout is a special Velcro securing component that is used to anchor the Unifying Top Cover for the Floor Padding, which makes it almost impossible for a person to dislodge the elements of the Safety Floor Padding and, should there ever be a situation where cleaning of the surface of the floor padding be required, the Unifying Cover for the Safety Floor Padding makes the process quick, easy and accurate. There is almost no place for any kind of mess to hide.
The third element is the one that is perhaps most visable one when one looks into a Seclusion Room by The Mat King is the Safety Wall Padding. These are vinyl clad foam filled panels adhered to wooden backings and secured to the walls of the room to a height of six feet, which is more than sufficient for protecting a child or an adult. The door jams get covered as well with protective padding and an observation window can be padded around so that those in charge can keep an eye on the person in need of this type of protection.
Safety Wall Padding - The Safety Wall Padding is designed to cushion the user from potential damage. It is is made of 1-1/2" thick Polyfoam padding, which is completely coverd with perhaps the leading premium coated vinyl cover material on the market. It is made with a high grade leather-like finish and trreated to meet NFPA-701 and CSFM while achieving a Class A rating for ASTM-E-84. This covering is a muti-purpose product ,which is C.P.S.I.A certified (6P), has no detection of DnHP (7P), and has less than 100 ppm lead, which assures that it is safe for use with children. Aditionally, this cover material is treated with UV and anti-mildew to enable it to withstand adverse weather conditions. The Safety Wall Padding panels have a 1" lip on top and on the bottom for securing to the wall. The wood backer board is 7/16" thick, which makes the over all thickness of the Saftey Wall Padding panel a full 2" over all.
Safety Wall Padding - Artist Depiction (Typical)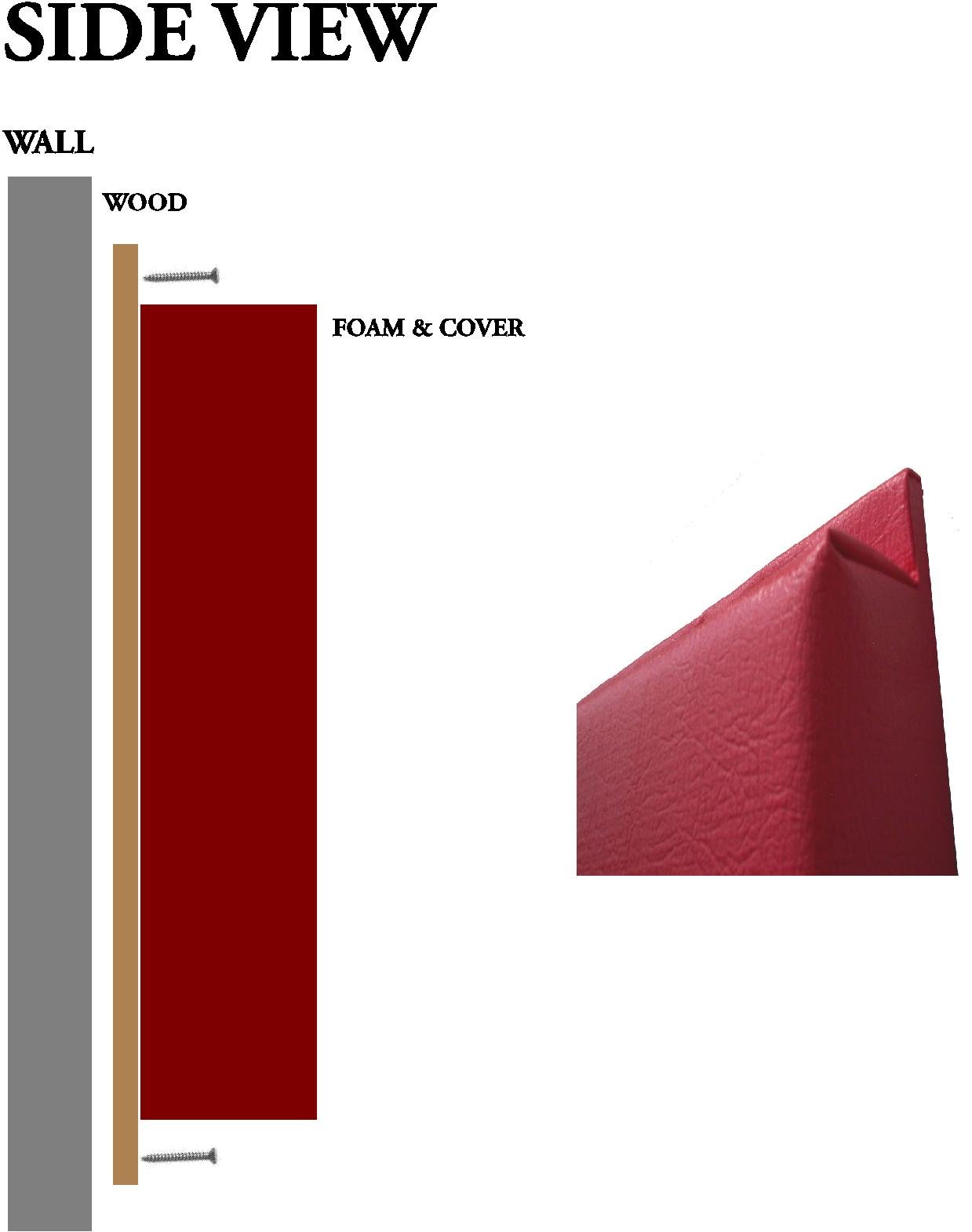 Safety Wall Padding - Plan Drawing (Typical)
Safety Wall Padding - Installation Guidelines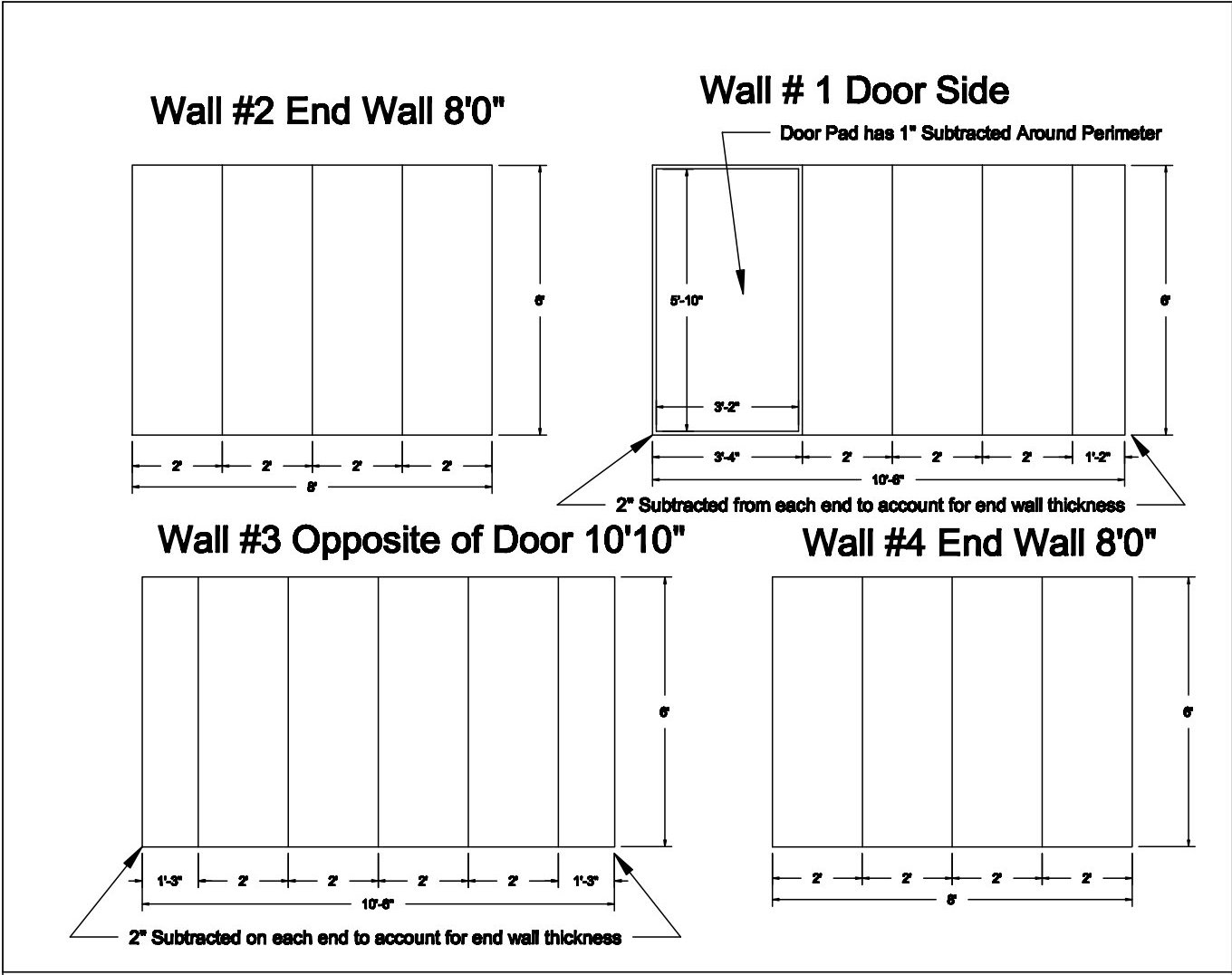 Safety Floor Padding - The safety floor padding
Safety Floor Padding - Plan Drawing (Typical)