Standard Issue Disposable Paper Tray Mats - Tray mats cover trays that get washed right after use. The Tray Mats are there to make the meal more enjoyable by framing the place setting and keeping things in place during the meal. That may not sound like much, but when your meal is to be set on a tray, everything and anything that can be done to raise the experience from simply eating to something closer to dining gets appreciated.
Standard Issue Disposable Paper Tray Mats are a very ecomomical option for most any institutional use. They are made of 27 basis weight paper, just the right weight to absorb spills, keep utensils in place and able to last for the duration of the meal while making the tray a overall nicer setting. They are availble in three different edge patterns: round, straight or scalloped. Standard Issue Disposable Paper Place Mats are offered in three different sizes: 10" x 14", 12"x16" and 14"x19". They are sold in bulk packging come in a range of colors that varry in terms of availability but can be ordered in specific colors in significant quantities though at more substancial prices.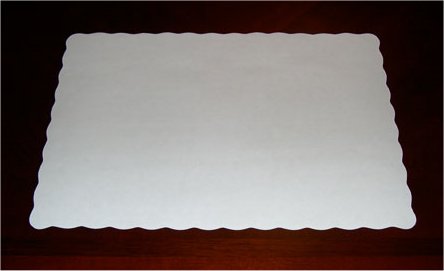 Placemat - Scalopped edge.